Don't have space for chickens at your place? Our chickens are happy healthy chickens that produce amazing eggs. For our retail stockists click the link below.
Buy our Eggs
We supply our eggs to a range of Cafés and Restaurants in the local area. Due to the freshness of our eggs they are exceptional for poaching and the colour and texture is rich and creamy from their life on pasture.
Eat our Eggs
We are a small family owned and run business in Kangaroo Valley NSW. We believe in sustainable agriculture and regenerative farming. Our lucky ladies have access to fresh grass daily allowing them to live their lives in a natural setting.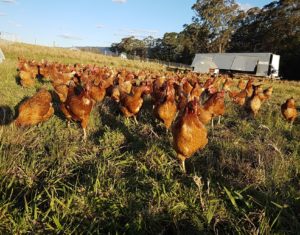 Want to Know More?
Check out our instagram and facebook pages or click on the link to send us an email.